Where was this photo taken? Many a time would we ask this question when we are facing a photo from a pool of pictures. Sometimes, we download photos of a friend or business partner from the internet such as a social platform, and want to investigate into the geotag. Sometimes we simply forget when and where we took the photos because it happened a long time ago. In this article, you'll learn how to check the the location information of a photo.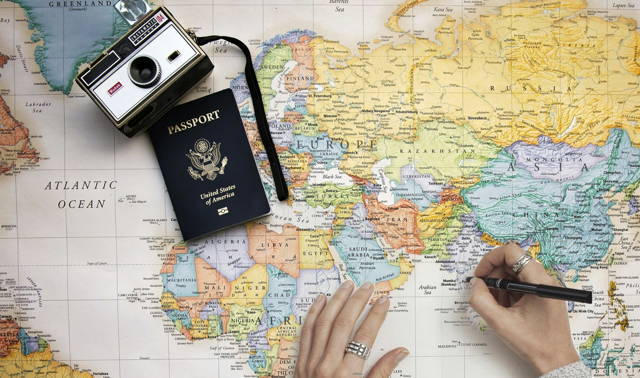 1. View the GPS coordinates of photos on iPhone
Without a third-party app, iPhone users cannot view the metadata, including the location data, for a picture. This is because Apple thinks that the ordinary person do not need to see the EXIF data in daily lives. But an iPhone user who has updated the OS system higher than iOS 10 can still find SOME geotagged photos. Here's how to.
Open 'Photos' on iPhone. Tap 'Albums' in the dock. Swipe down until you find the album named 'Places'. This is an auto generated album in which all the GPS-coordinated photos are automatically collected if you have allowed your iPhone Camera to acquire your on-site location data.
Of course you can choose not to let your iPhone Camera access your location data by changing the settings.
Open settings
Tap to open 'Privacy' option
Tap to expand 'Location Services'
Find 'Camera'. Tap to expand it, and you'll see the interface like below.
Tap to choose 'Never' to disable location access. Done.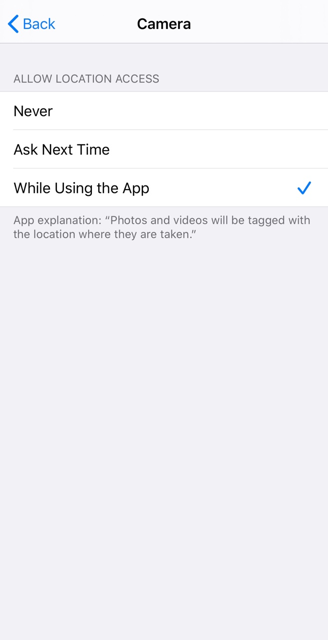 Although iPhone can auto acquire your photos geotag information and group them into an album, it may fail to so if your cellular data signal is weak or you have simply turned it off. Thus, by checking the 'Places' album, you are often not being presented with the full number of pictures which could have all been geotagged.
Based on this situation, you night want to install a third-party iPhone app. There are quite a lot free metadata viewer apps available in the AppStore, such as Photo Investigator and Metapho. You can explore and install one on your iPhone if you need.
Since most Android phones contains picture metadata viewing functionality, I omit the similar how-to part here.
2. View photo EXIF on PC (Windows computer)
The metadata of a photo is also known as EXIF which is short for Exchangeable Image File Format. EXIF contains information such as where the photo was taken (i.e., the geotag), when the photo was taken (i.e., the time tag), how large is the picture (i.e., the storage bit size of the picture), the dimension of the picture (i.e., the pixel size of the image), the device or camera which took the photoshoot, and so on.
Windows innate File Explorer allows you to view EXIF. Right-click a picture file. Then, select "Properties" in the appeared menu. Next, click the "Details" tab in the popup properties window. Last, check the Latitude and Longitude coordinates under GPS sub-tab.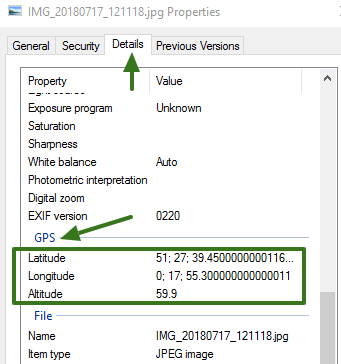 As you can see, although Windows File Explorer allows you to check the location information of a photo, it does not show you the name of the place but only the Latitude and Longitude coordinates. It can be a very strange and meaningless number to a person who is not familiar with geography numbers at all. Actually, most people are. That's why people need a third-party application to help them better check and manage the geotags of their photos. Here, the application I would like to recommend you is Cgaga Fotosifter. Below's the steps on how to view photo metadata using Fotosifter.
3. View photo EXIF on Fotosifter for Windows
Launch Fotosifter. Scan your storage devices and import the photos you want to check.
Click 'All' from the left-side tool bar to render your view mode into thumbnail mode where you can have a glimpse at all the imported pictures.
Scroll down and find the image whose EXIF information you want to view.
Quick double click the photo to enter picture-editing mode. You'll then see there's a right-side tool bar.
Click the third icon which looks like the letter i enclosed by a circle. Expand it and you'll see the geotag information.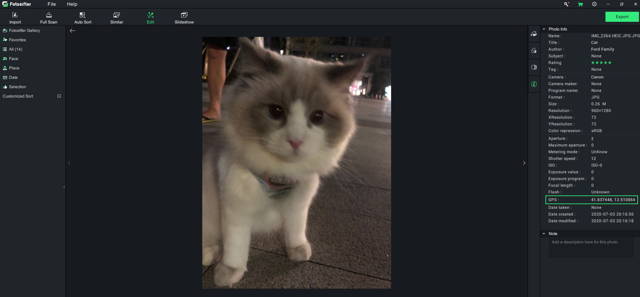 Easy and smart photo organizing and editing software for everyone!
For Windows 10/8.1/8/7 64-bit
Normally, pictures contain metadata, i.e., EXIF information. Due to device and OS discrepancies, not all pictures contain or can show their EXIF information in a accessible and readable manner. That's why third-party applications come into being. As an easy-to-use software, Fotosifter enables users to view photo metadata and add geotags conveniently. Free download Fotosifter and try it now.
Cgaga Fotosifter to manage your photos in multiple devices
Fotosifter - an easy and smart photo oragnizer and editor
PS tips—How to do animal image matting in Photoshop
You may also like to read: