How to Generate and Share Photo Slideshow Video on YouTube Within Fotosifter
Today, Fotosifter pans out a new major feature. Users can now upload and share oven-fresh photo slideshows on social platforms, such as YouTube and Facebook, directly within Fotosifter without uploading the videos many times separately on SNS platforms.
Why can I upload and share slideshow video on socials within Fotosifter?
We know that uploading a same video to various social platforms can be very annoying and time-consuming. After you have made a video, you used to export it and save it on local, and then upload it to those SNS platforms one by one, performing the operations such as titling, tagging, and describing, which are boring and repetitive.
This is why we bring out this featured function. Our developers have created built-in access that enables you to log in your social accounts with one click, upload and share your photo slideshow video directly within Fotosifter at a fast speed.
Particularly, this in-app sharing feature is equipped with powerful encryption technology which ensures the security of your digital assets.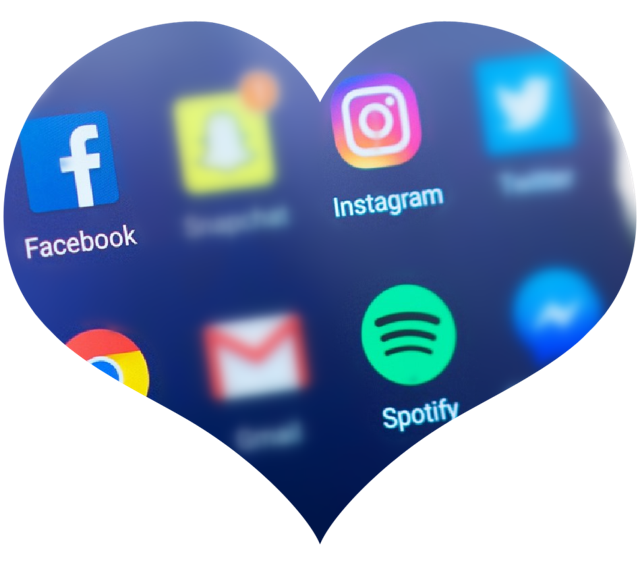 Super convenient, fast, and secure. Sounds nice? I am here to walk you through the whole process.
Prepare a quick-made slideshow video
Import the photos you want to work with in order to make the slideshow video. You can also import a much wider range of photos and pictures, and then use Fotosifter's auto organizing function to sort them out. As long as you've sorted the wanted pictures out, you can delete the irrelevant ones.
Deleting photos within Fotosifter WON'T affect your local photo assets.
After this, you can use the slideshow video maker of Fotosifter by clicking the 'Slideshow' icon from the top tool kit bar.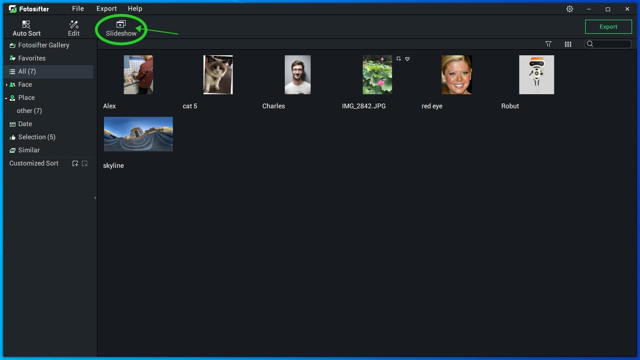 Start to make a slideshow video with the following illustrators which well explain it all. You can opt out any operations of course.
1. Add a transition effect for each slide.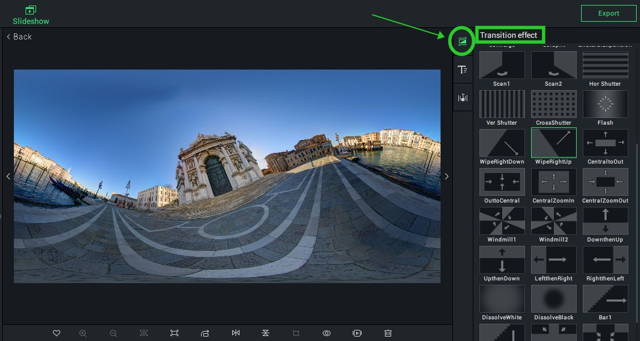 2. Create an opener slide for your video.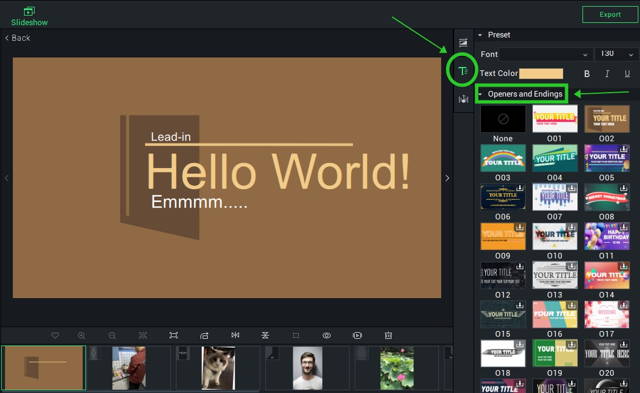 3. Add a text sticker on a slide.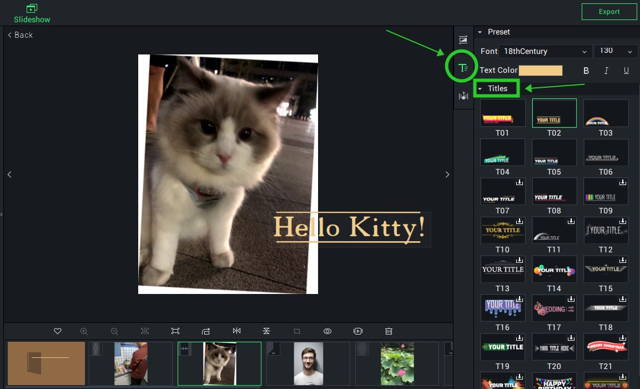 4. Create an ending slide.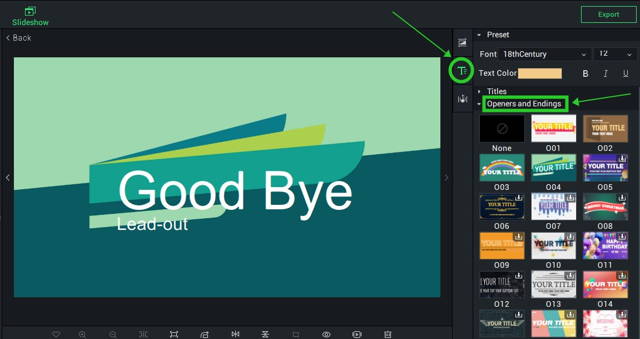 5. Add an audio track to the whole slideshow.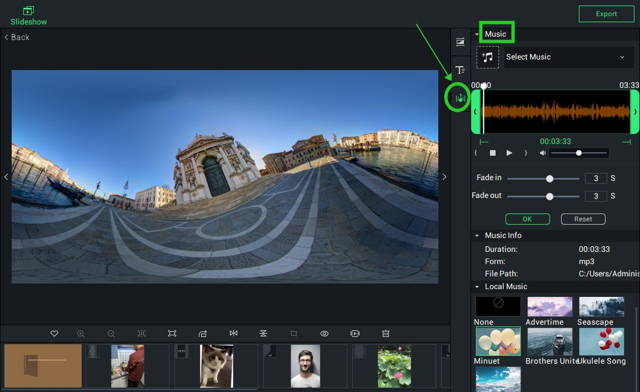 Now, the quick-made video is ready. Let's upload it and share it out on social within Fotosifter.
Upload and share the slideshow video on social within Fotosifter
Click the 'Export' button from the top-right corner. Then, you'll be presented with a pop-up window tabbed with 'Export' like below.

At the left side of the pop-up window, you can find social platforms such as YouTube and Facebook (more supported SNS platforms will be added in the near future). In this tutorial, I take YouTube as an example. Click 'YouTube'.
You'll notice that the display changed. The YouTube logo and a 'sign-in' icon appear. Click the 'sign-in' button. Then, a new pop-up window will appear. Type in your YouTube account access information and click 'Next'. If you want to get easier access, you can choose to tick 'Remember me. Then, follow the on-screen hints. After successful login, you'll return to the first pop-up window.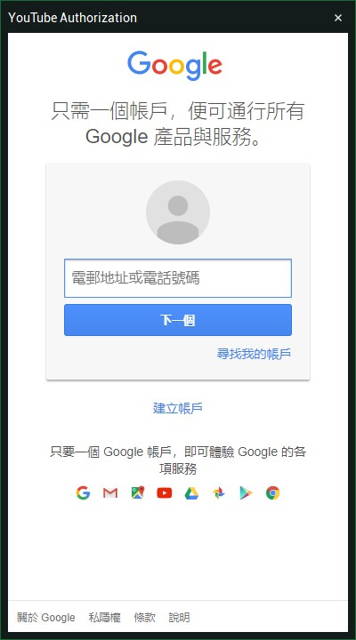 Give your slideshow video a nice name, add tags and description to it if you want. You can also define the resolution as well as the visibility of your video. Visibility means the degree of publicity, i.e., who can view your video on YouTube.
When the above settings are done, click the 'Export' button at the bottom right corner. Then, the uploading and sharing process will be running automatically.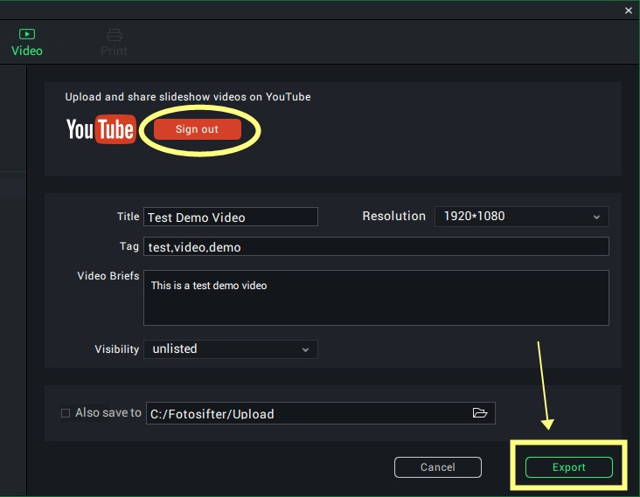 Upon seeing the hint window as shown below, the whole process is completed. Boom! You can go to YouTube and check if it's already on it.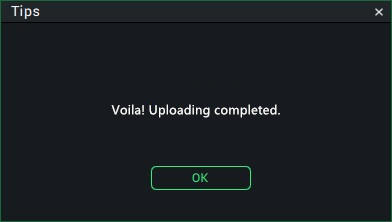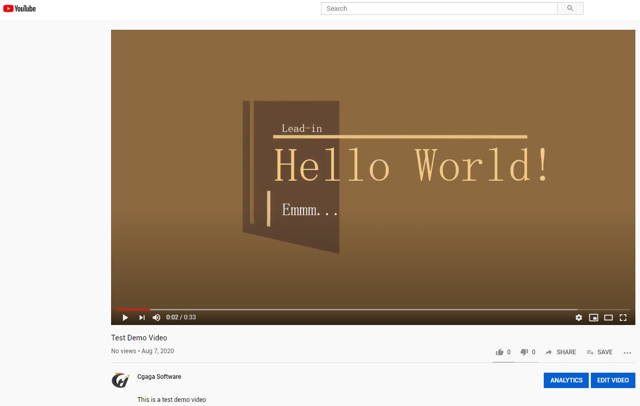 Uploading and sharing a same video on various social platforms can be a repetitive and time-consuming labour. With the good news being Fotosifter enables users to upload and share videos to social sites such as YouTube and Facebook directly within Fotosifter, the problem will no longer exist.

Quick, convenient, and secure. What are you waiting for? Free download Fotosifter and share out a nice photo slideshow video now.
For Windows 10/8.1/8/7 64-bit
Cgaga Fotosifter to manage your photos in multiple devices
Fotosifter - an easy and smart photo oragnizer and editor
PS tips—How to do animal image matting in Photoshop
You may also like to read: