Top 4 Best Slideshow Maker for Beginners
In ordinary work and study, we will be exposed to slideshow. A wonderful slideshow video can make others remember you faster and quickly understand your abilities, which is very valuable. And the slideshow have the characteristics of vividness and combination of pictures and texts, which can make the content we want to express more vivid and concrete. So what are some useful slideshow making software? Here are some softwares that can be used by beginners.
1. Movavi Slideshow Maker
Flexible: 150+ filters, 100+ transitions, 40+ titles
Easy: master in 5 minutes, explore your creativity for hours
Personal: use voice-over to tell your unique story
Secure: no need to upload your own photos online
1. Install the Software: Download and install Movavi Slideshow Maker on your computer.
2. Choose your Working Mode: Choose "Create a movie" in manual mode to take control of the creative process with lots of adjustable settings and options. Make your selection and proceed to the next step.
3. Upload Photos: In the "Files" tab, click the "+Files" button and choose the images to include in your slideshow. You can also click "+Folders" to add entire folders of photos.
4. Edit Your Slideshow:
To save time when creating your slideshow, you can choose a ready-made theme (for example, Family, Love Story, etc.). click "Next".
To make your own choice of music, caption, and transition style, choose No Theme, click Next, and go the the next step.
Open the Music tab. Click "+Music" to upload the music of your choice. You can also use one of the built-in audio files.
5. Preview Save Your Slideshow as a Video:
Open the "Preview" tab. When you're ready to save your photo movie, go to the "Export" tab, choose "Save Video File" or, for example, "Save for Devices".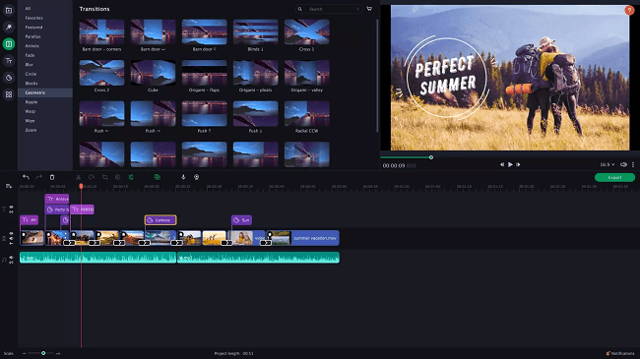 2. The Best Choice - Fotosifter
Fotosifter is the most suitable picture editing software for beginners, not only can meet the needs of users, but also easy to operate. You are free to choose from over 50 transition effects for each switchover between pictures. Those effects include fade-in and fade-out effects like cross fade and dissolve. Equipped a wide range of both text and image stickers in the software. You can add your local music and sound effect, and the software also contains quite a few royalty-free music pieces and sound effects.

Make Slideshow Video on Windows with Fotosifter
Turn your photos into a story. Fotosifter Slideshow Maker Powers You Up!
For Windows 10/8.1/8/7 64-bit
Step 1: Enter Slideshow Editing Mode
Click the "Slideshow" button in the top toolbar to enter slideshow making mode, where you can further see a series of editing tools.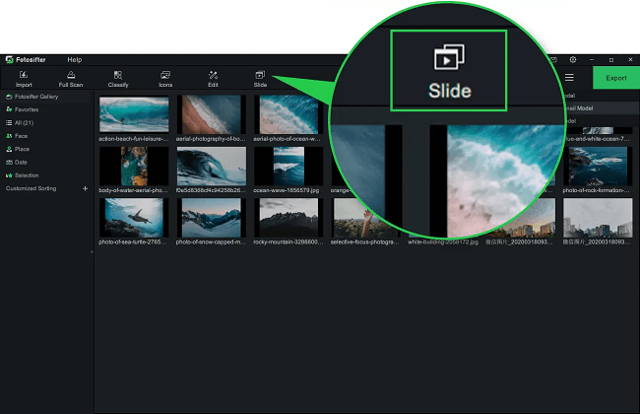 Step 2: Start to Make Photo Slideshow Video
Click the transition icon to customize transition effects between pictures.
Click the opener/ending icon to assign a couple of opener and ending to your slideshow video.
Click the "T" icon to add text and expression stickers.
Click the music (note) icon, and then impart audio elements to your photo story.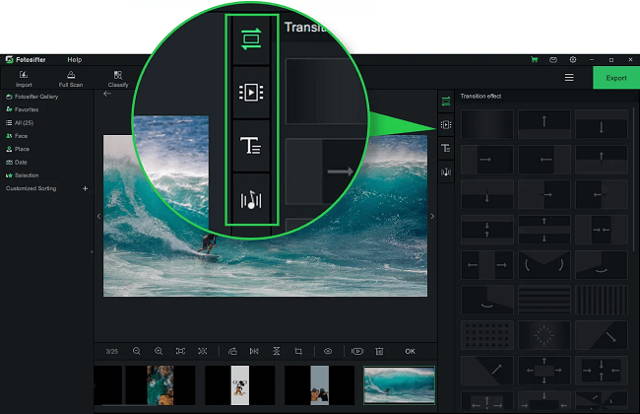 Step 3. Preview Slideshow and Save It
Upon finishing editing your photo slideshow, you can preview your work by clicking the viewer icon. Then, you can click the "OK" button to save the slideshow video.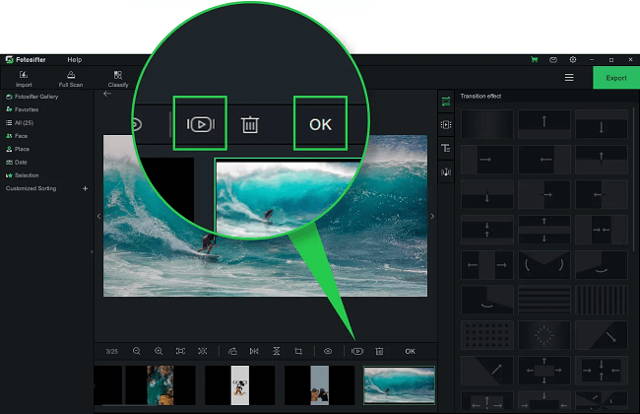 Step 4. Export Photo Slideshow Video
The last step is to export the video. Click the green "Export" icon, and you'll subsequently be shown with a pop-up window letting you set the related video parameters, such as video formats and resolution. As soon as it's set, click "Export" to complete the procedure.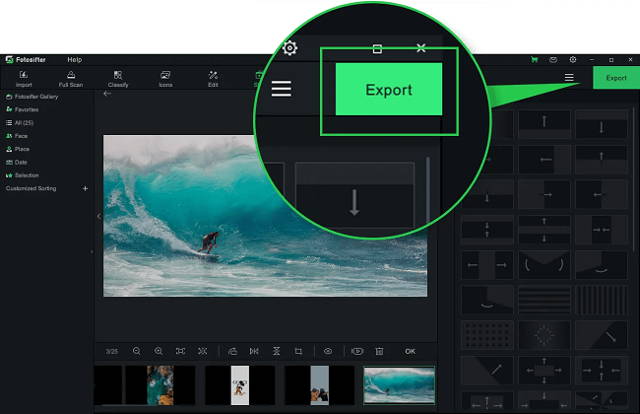 It allows you to create a stunning slideshow in a matter of seconds. Select photos, videos, music, and you're done! Not only is this great slideshow maker quick and easy-to-use, it also lets users customize everything: scene duration, transitions, audio and music volume.
Download and install Kizoa Slideshow Maker on your computer.
Select either template or from scratch to create a slideshow
Upload photos to Kizoa
Edit photos and slideshow layout by adding text, animations or colour. Alternatively you could allow Kizoa to randomly choose the transitions played between imagery in the slideshow
Save slideshow to Kizoa account or share video via e-mail,Facebook or Twitter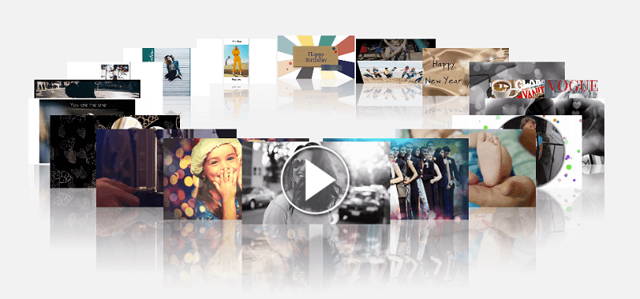 It will help you create professional looking video slideshows from your photos in a few clicks. You don't need to be tech savvy to create a slideshow with music. Fancy transition effects will make your presentation look even better. Just add photos, tweak slides' settings, add text if needed and add a suitable audio file.
Download and install the Slideshow Maker on your computer.
Add photo or a folder with photos: click on the "Add photo" or "Add files to start your photostory" buttons.
Configure slideshow settings: You can configure time and transition characteristics for each file in the queue by clicking on a corresponding button. The "Add audio" button in the bottom left corner of the preview section of the program allows you to make a slideshow with audio.

Once all the configurations are set, click on the "Preview" button to make sure everything looks exactly like you want.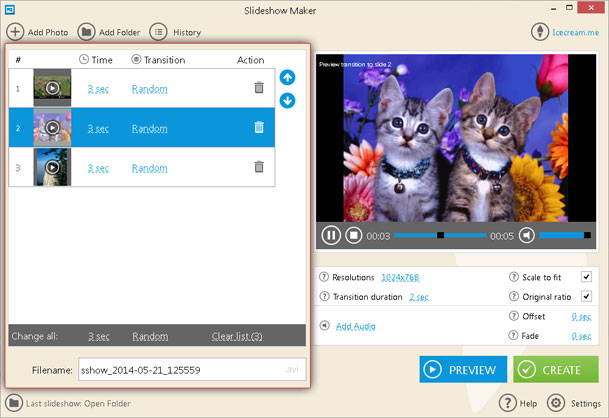 If you learn how to make a slideshow, try it out. Download Fotosifter now and you can try it for free. If you find it useful, you can share it with your friends.
Cgaga Fotosifter to manage your photos in multiple devices
Fotosifter - an easy and smart photo oragnizer and editor
PS tips—How to do animal image matting in Photoshop
You may also like to read: