[Simple] How to Sort Thousands of Photos
" How can I sort my photo library ? Suspect videos taking up lots of storage, looking for a simple way to sort photos. "
--Questions from a forum
The question of how to organize photos is often seen on forums, and I'm sure many people have trouble with it. As we all know, photos are the data that take up almost the most storage space on the phone, especially for female users, with pictures taking up even 50% of the storage space. In this article we're going to discuss specifically how to manage photos effectively.
First of all, we should get into the habit of managing photos on a regular basis, such as cleaning them once a month or once a quarter. Or instantly delete useless pictures, such as screenshots from your phone and images that are automatically cached by the software.
If you have accumulated thousands of photos and want to organize them but have no idea how to do it, don't worry, follow the steps below to easily sort the pictures.
Must-have photo tools - Fotosifter
Fotosifter is a powerful picture management software.
It can quickly scan photos from computers, mobile phones, cameras, and other devices.
Fotosifter intelligently sorts photos by time, place, size and people, as well as creating custom albums. So users will be able to quickly find out photos they want and export them to computer for backup.
With all albums be separately listed, whether exporting a whole album or just several specific photos, it's just a click away.
To help users smoothly view all photos on computer, users can select the photo format when being exported to computer.

Easy and smart photo organizing and editing software for everyone!
For Windows 10/8.1/8/7 64-bit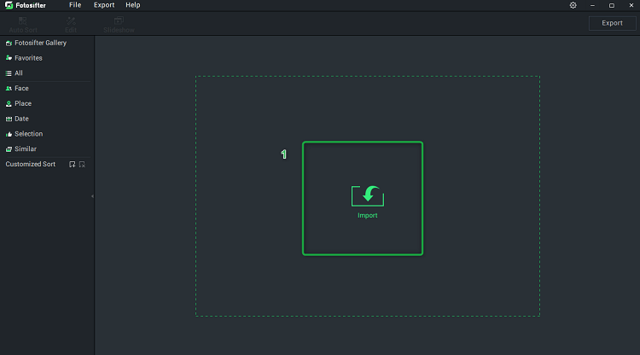 Step 2. Delete low-quality photos
When you import photos, the software will automatically recognize similar and blurry images, which you can view on this page below. And the amazing thing is that fotosifter can also recommend high quality images through intelligent technology, so you no longer have to hesitate to choose among many similar photos. It is possible to delete low-quality photos directly in the process.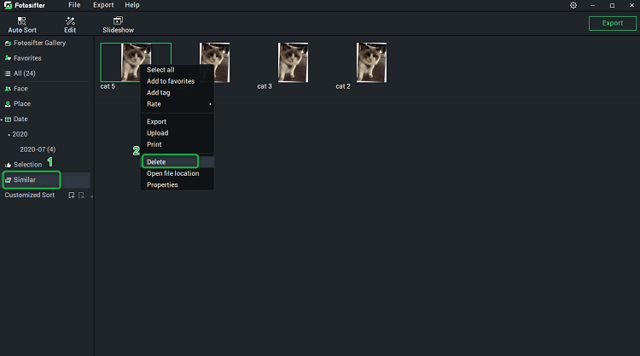 If you are not managing photos for a long time and have a lot of pictures, I suggest you take sorted photos by date. Fotosifter categorizes your images by month so you can quickly find the ones you need by timeline.

If you've just finished a long trip, you've gone to many places and have a lot of precious photos. Fotosifter helps you quickly sort photos based on travel locations.

If you've just been to a party and have hundreds of photos with various friends all at once. You can sort photos by face and then pick the best photo with each of your friends.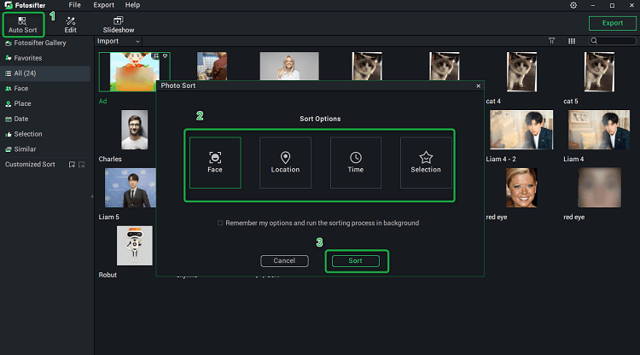 Finally, click the Export button to export your picked photos.
Your other options - local management via computer
The easiest way to manage photos is through the sorting properties that come with computer files. But this doesn't help much, and still requires you to manually sift through the blurry, duplicate or failed shots one by one. If you need to sort your images, you have to move them to the corresponding folders by creating different folders to do so. This can take a lot of time and effort.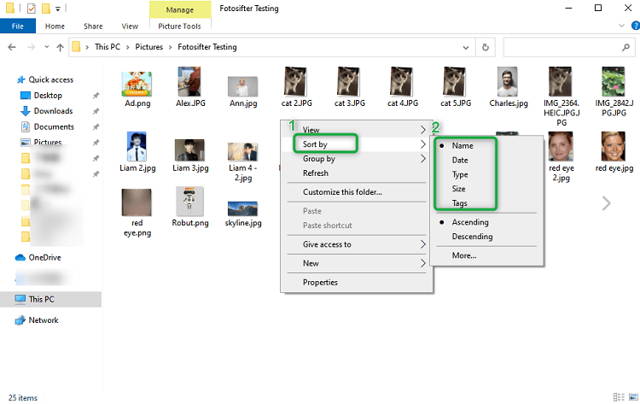 Overall, managing thousands of images can be complicated without using handy image tools. That's why I recommend fotosifter, which is perfectly suited for daily use. And it can also edit pictures, so this software takes care of everything. Download Fotosifter now and manage your images easily!
Cgaga Fotosifter to manage your photos in multiple devices
Fotosifter - an easy and smart photo oragnizer and editor
PS tips—How to do animal image matting in Photoshop
You may also like to read: