[Quickly]How to Whiten Teeth in Photoshop ?
Do you struggle with teeth that is look yellow and black in photos? To keep your teeth in a good condition, you should keep a healthy diet first. Too much sugar, alcohol and nicotine will do harm to your teeth, over time, it can also damage other parts of your body.
It takes a long time to see the benefits brought by a good diet for your teeth, but it is very simple to solve the yellowed teeth in the photo. This article will bring you two ways to whiten your teeth. I hope it can help you.
How to whiten teeth in Photoshop
It is easy to whiten teeth in Photoshop, let's take this Mr. Lion as example. From a human point of view, his teeth are yellow and red, not white enough, now we will whiten Mr. Lion's teeth in Photoshop. This method is more suitable for people who are familiar with Photoshop.
In order to avoid irreparable damage to the original image, we need to duplicate the layer first. If you don't know how to copy, press Ctrl+J. All our manipulations will be made on the duplicated layer.
Step 1. Select Mr. Lion's tooth with quick selection, pen tool, lasso tool or quick mask mode. Here I use the quick mask mode to select tooth. To do that, you should first enter the quick mask mode by click the icon. Then use brush tool to paint tooth of Mr. Lion.
Step 2. Turn off the quick mask mode and pick out the tooth, press Ctrl and U to adjust Hue/Saturation. Here we choose yellows and turn up the lightness.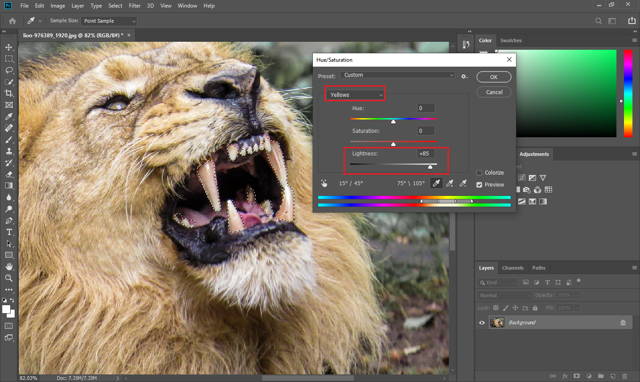 Step 3. We are almost there, now we need to do some slight manipulation to make it looks natural. Create a new layer and fill the tooth with white. Note, here we should use soft light mode and low down some opacity.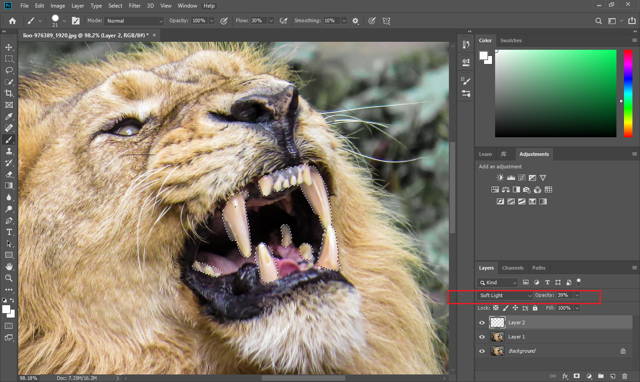 Step 4. Cancel selection, use eraser tool erase some extra white to make it looks natural and finish the manipulation.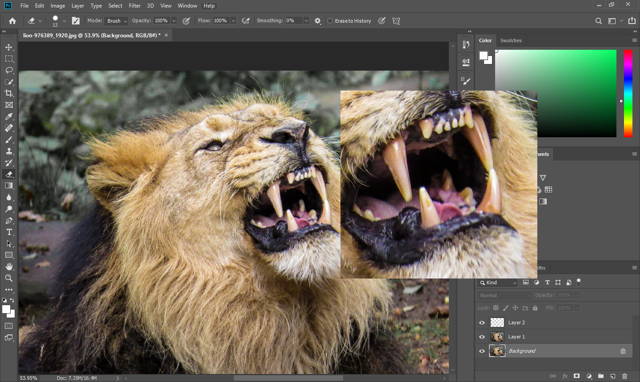 How to whiten teeth with Fotosifter
Fotosifteris a simple, easy-to-operate picture management and editing software. Suitable for most people, with a simple UI interface. With Fotosifter you can manage your pictures and automatically classify pictures according to time, location, face, etc. So you have a clearer picture library. In addition, you can also edit them, such as adjusting the color of the picture, removing red eyes, whitening teeth, etc. Using Fotosifter to whiten teeth is much simpler than Photoshop, but it can achieve the same effect. If you are a beginner in Photoshop, I suggest you choose fotosifter first. The specific steps are as follows:

Easy and smart photo organizing and editing software for everyone!
For Windows 10/8.1/8/7 64-bit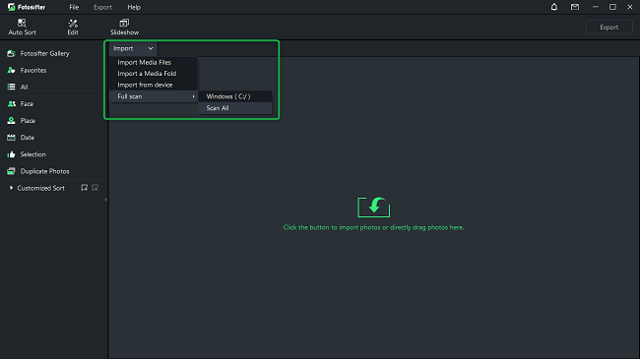 Step 2. Select the photo that needs whitening teeth and click the edit button in the upper left corner to enter the edit mode. You can directly adjust the saturation and brightness of yellow in the picture to achieve the effect of whitening teeth. Or by adjusting the white balance.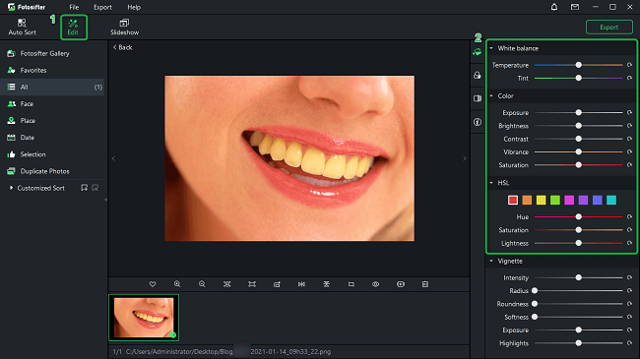 Step 3. Click the " Export " button when finished. When exporting, you can choose the format of the picture, jpg or png; choose the export path of the picture; set the folder name, etc.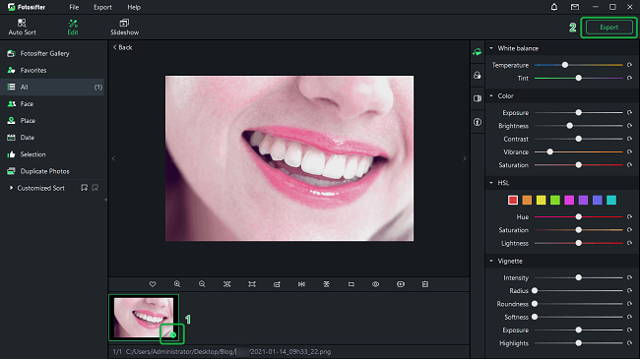 So far, we've done all the steps. Please note that this method is not effective in the long term. If you need to keep teeth white for a long time, please keep a good habit and better photography skills. Thanks for reading!
Cgaga Fotosifter to manage your photos in multiple devices
Fotosifter - an easy and smart photo oragnizer and editor
PS tips—How to do animal image matting in Photoshop
You may also like to read: