How to Make Digital School Yearbook Slideshow Video to Remember
In the previous blog article titled A Perfect Way to Prepare Photos for Digital Yearbook Slideshow Video, I briefly discussed the tendency that a growing number of young students are making and signing digital yearbooks, including the effect brought by the COVID-19 and quarantine. Subsequently, I provided a detailed all-in-one solution for selecting and preparing materials (i.e. photos) before making digital yearbooks.
The key tool in the solution is the PC software Fotosifter, which can be perfectly served as an alternative to digital yearbook software. In the last article, I gave all the steps using Fotosifter to sort, select, and pick desired photos quickly and smartly. With materials well prepared and ready, now it's time to create digital school yearbooks.
Launch Cgaga Fotosifter. Single click "Import" at the very left side of the top toolbar. There are three ways to import your picked out photos saved last time.
By clicking "Import Media Files", you can import groups of individual photos. When the Windows file explorer pops up, hold and click and drag as what you usually do to select multiple files. Then, click "Open" to start importing.
By clicking "Import a Media Fold", you are importing a whole folder or an album. This importing way can save your time if you have saved the selected photos in a particular folder or album.
Click "Import From Device" if you the picked out photos are saved in an external storage device such as a USB flash drive.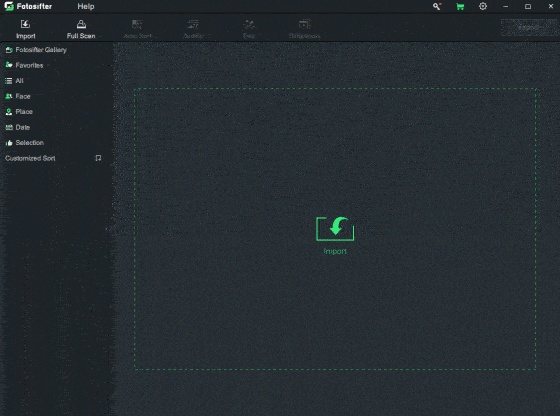 Create photo slideshow video with Fotosifter
A. Enter photo slideshow editing mode

First of all, you need to enter the photo slideshow editing mode. Click "Slideshow" on the top toolbar. Then, you'll immediately notice that on the right side of the software, there appears a wider-looking toolbar - that is the slideshow making toolkit.
B. Make up of the slideshow-making toolkit
What magical gadgets does the right-side toolkit have? Well, there are mainly 3 control panels which empowers you to customize your slideshow:
Transition Effect panel
Text Sticker panel
Music and Sound panel
How to utilize these tools to quickly make a photo slideshow video? Keep reading.
C. Make the best of Fotosifter's powerful slideshow making tools
Transition Effect panel:
This is where you are free to choose and set a transition effect for a certain photo slide from over fifty (50+) effects!
The Transition Effect panel is presented in priority by default. Single click the picture to which you want to apply a effect. Note that the selected image is square circled by the Fotosifter-exclusive fluorescent green rectangle. Then, single click to choose the effect you want to apply on the photo. Just to remind, as long as you clicked to select the effect, it's automatically saved - there's no need to seek for any "OK" or "Save" button.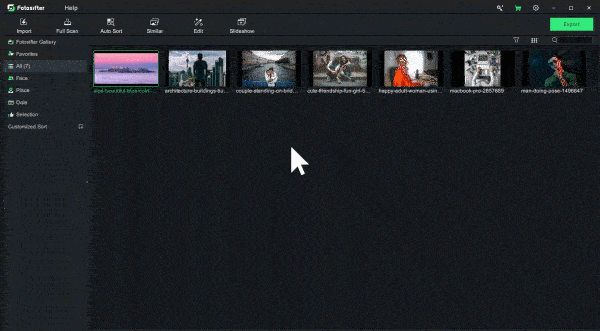 Click the second small icon (from top to bottom, after the first icon) which looks like the letter "T" to expand the Text Sticker panel. Select a picture on which you want to add text stickers. Then, quick double click the text style you want to render.After that, you'll see the text sticker is applied to the photo with the default preset phrase "YOUR TITLE". Similarly, quick double click the text area to edit the text. More to say, you are free to drag, move, zoom in and out either the text area or the background.
As you already have guessed out the next step: Click the third small icon which looks like a quarter note to expand the Music and Sound panel.Fotosifter provides you with two music adding ways: add music from its own music resource list in which there being prepared a dozen of royalty free music pieces!You can also add your own music or sound effects by clicking the icon circled by a dotted-line squared on the top of the panel near the "Select Music" menu. Remember to click the "OK" button to save it. The added music is rendered on every slides throughout the slideshow video.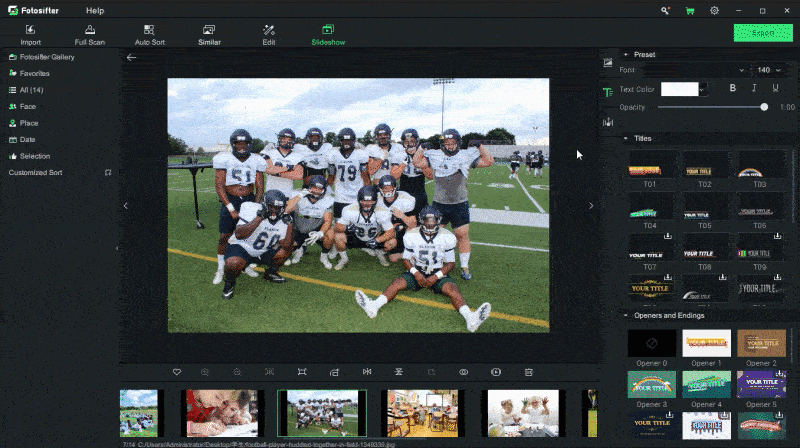 Export photo slideshow video and share it out!
Finally, the photo slideshow video is about to be panned out! Before exporting, you can preview your work by clicking the icon just next to the right-most one (trashcan look-liked).
If there's no problem, click the green "Export" button on the top right of the software interface. Turn the settings into your needs, and export the photo slideshow video. Done!
In the near future, you'll be able to share your slideshow video work to YouTube directly in Fotosifter.
Having sorted out the desired photos, Fotosifter can directly create photo slideshow video in a simple and easy manner. The three main slideshow making tools empowers users to pan out slideshow videos fast. You can render transition effects, add text stickers, or render music and sound effects on your photo slideshow. Before exporting your work, you can also preview your quick-made video.

Download Cgaga Fotosifter and quick make your your digital yearbook now.
For Windows 10/8.1/8/7 64-bit
Cgaga Fotosifter to manage your photos in multiple devices
Fotosifter - an easy and smart photo oragnizer and editor
PS tips—How to do animal image matting in Photoshop
You may also like to read: