How to Make a Photo Look Retro
Rendering a picture into an 'old photo' creates a retro effect, which breathes a special feeling into it. Bright colored photos are indeed necessary as part of our lives. However, sometimes, an old fashioned picture makes us feel cozy. It's like an emotional refresher in today's life. To make an image having a sense of times, you don't need a high-end camera, but only a omputer software. Here's the step-by-step guide on how to make a photo look vintage by using Fotosifter.
Download, Install and Launch Cgaga Fotosifter
The magical software is Cgaga Fotosifter which is a quick image enhancer. First of all, download and install it. It's 100% free to download and install. The whole process won't take long. Then, click 'Run' to launch Fotosifter. If you meet any problem during the process, please contact our support team.
Import the photo you want to work with
After installing and launching Fotosifter, you'll be able to see it's main interface. Now, it's time to import the photo you want to enhance.
Click 'Import' in the top tool bar.
Click 'Import Media Files' in the sub-menu.
In the pop-up window, choose the image you want to modify, and click 'Open' at the bottom right corner to import it in to Fotosifter.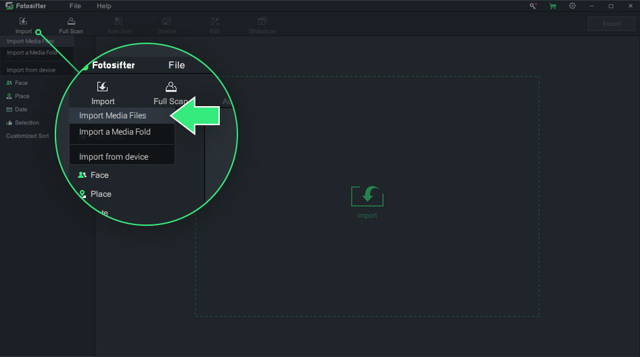 Before you can make any changes on the picture, you need to enter photo editing mode. Below's how.
Click 'All' from the left-side tool bar. You'll see all the picture(s) you have imported.
Single click to select the target picture.
Click 'Edit' from the top tool bar. The target photo will become bigger in view and you can see some other tools around it.
Now, you have successfully entered photo editing mode.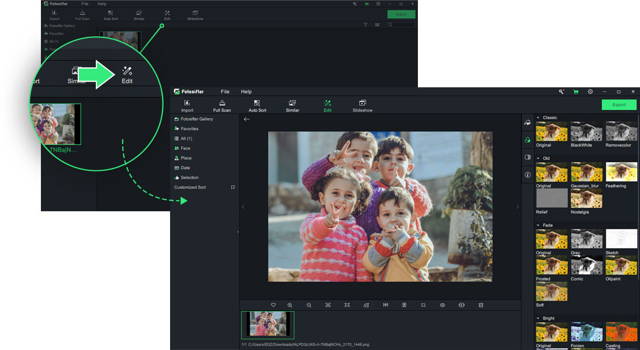 Exert the vintage-feeling photo filter on the picture
Fotosifter has prepared multiple common photo filters for you. As built-in resources, they are all free. How can you find those preset photo filters? Follow the following instructions.
On the right side of the target photo, you can see a right-side tool bar. There are four small icons between the target photo and the right-side tool bar. Click the second icon which looks like a palette.
Now, you are presented with all the preset photo filters. The filters are categorized into 5 classifications for you: classic, old, fade, bright, and natural. Hover your mouse on the filter named 'nostalgia'.
You'll see a circled plus (+) icon on the hovered filter. Single click the filter.
Yay! It's applied on the photo! As you can see, the picture has been already rendered into an old-fashioned style.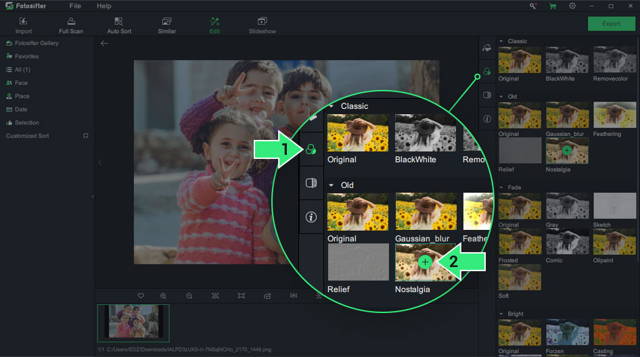 Check and export the rendered photo
After appying photo filter, you might be worried about whether it's saved or not. No need to worry at all! Actually, the chosen filter has automatically saved by Fotosifter and there's no extra to click the so called 'Save' button. This is one of a feature that Fotosifter has. It really brings you convenience, isn't it?
If you are still worried, simply click the little eye icon at the bottom tool bar. By clicking and holding the icon, you'll see what the photo looked originally.
Here comes the last step. Click the green 'Export' button. In the pop-up window, choose the file format you want to assign on the new rendered picture, and choose a file path where you want to save it. Then, click 'Export'. Done!
An old-fashioned photo brings us a cozy and warm feeling with its special tone. How to render a modern bright-colored photo into a vintage one? There's no need to use a high-end camera. With a computer software named Fotosifter, you can implement that in a short time.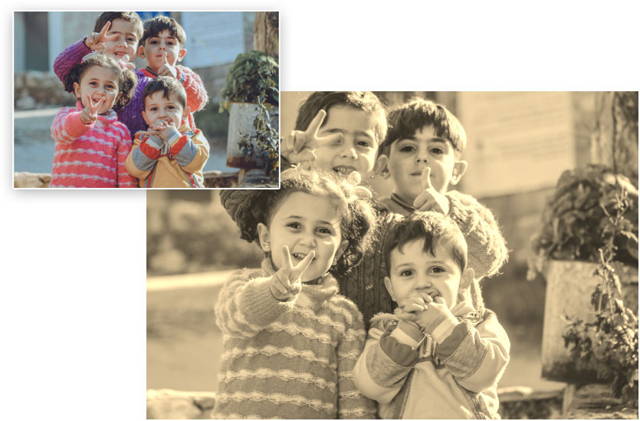 What are you waiting for? Free download and try Fotosifter now!
For Windows 10/8.1/8/7 64-bit
Cgaga Fotosifter to manage your photos in multiple devices
Fotosifter - an easy and smart photo oragnizer and editor
PS tips—How to do animal image matting in Photoshop
You may also like to read: