How to Sort Google Photo Albums
Google photo is a strong online photo organizer and photo storage tool. By different criteria, users are able to share their albums or photos after organizing or editing. Also you are allowed to add, remove or edit photos from an album at any time if you want to. Google photo recognizes faces in your photos and put the same faces into a group. Also you have the ability to hide a face you don't want to show.
In this article, I will share you ideas about how to sort Google photo albums within a few basic operations.
1. Get to know the Google photo dashboard
Here is the dashboard of Google photo. On the left side are normal toolbar, including Photos, Sharing, Photo books, Albums, Utilities, Archive and Trash.
Photos: It's the main interface, your imported photos or videos will be displayed here, you can also drag photos or videos here to import.
Sharing: After you edit a photo or finished sort, you are able to share them. Once you shared anything, it will appears in Sharing.
Photo books: Start from a photo book made for you or make your own creation. You can add captions or collages to any page.
Albums: Albums is the place to create or browse an album, here are 7 built-in albums with different features.
Utilities: In Utilities, you can add partner account.
Archive: Archived items will be displayed here. If a photo or video is archived, it is not going to show up again in Photos.
Trash: Deleted items show here, they will be fully removed after 60 days.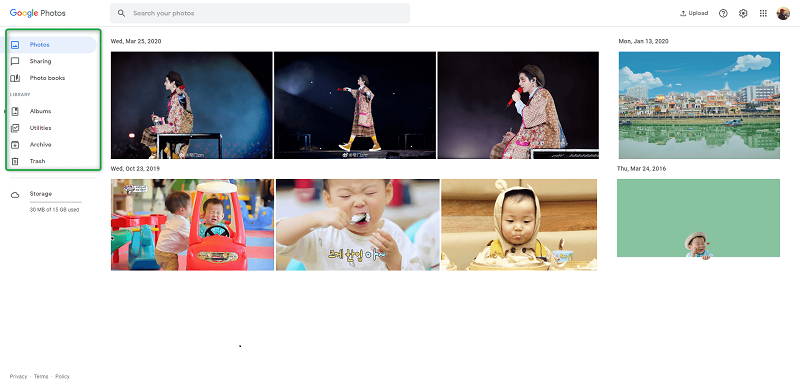 2. How to sort Google Photo
Create a Google Photo Album
Step 1. Drag photos to Photos, you are able to import photos from computer. Or click the upload symbol to upload by computer or Google drive. After uploading, photos will be displayed in date, there will be a timeline on the right side.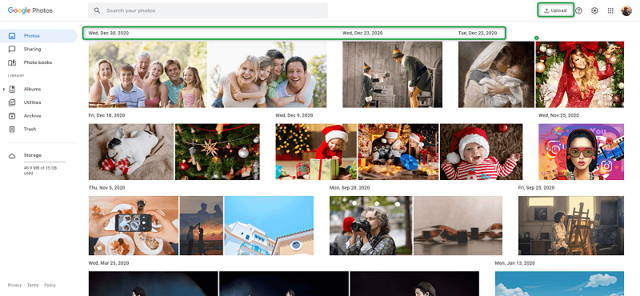 Step 2. Tick photos you want, then click the plus symbol to add to an existing album or create a new album. If you create a new album, you will go to another page.. On the top right corner, there are tools for you to sort photos, add text, photo and location, click the tick symbol on the top left corner to finish.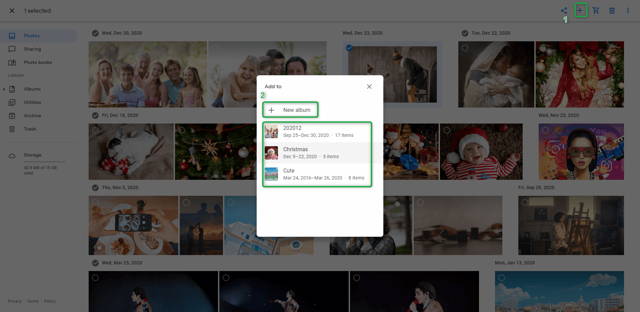 Sorting Google Photo by face
You may have seen that there are built-in albums. How should we sort those Google albums? The People album is a collection of photos that contain faces, the same face will be grouped together automatically.
Step 1. Double click a photo that contains a face, click "1 face available to add" to add a face tag.
Step 2. Then click the available face to add a new face.
Step 3. Now back to People album, there you've got a new People group. Wait a while, all photos contain her face will be grouped there.

Album Places is sort by location information in your photos, you can add or change location information in photo info or tick it first then click more symbol.

This method is also applicable for edit date information.
Album Things groups photos by things, like sea, forest, mountain, car, bike et cetera. Videos you loaded are shown in album Videos, while album Collages, Animations and Movies allows you to create a collage, slideshow or movies ( need other apps ).
Above are answer about how to sort Google photo albums, it is a really strong tool to sort photos, the only weakness is that it relies on internet, without internet or a bad internet will affect the use experience.
3. Free photo sorting tool - Fotosifter
If you ask me an internet free photo sorting tool, I would say Fotosifter. It is a professional photo management and editing software and it has same functions with Google photos, sort and group photos by face, date, location and grade intelligently by simple clicks. By the way, you can use this software tofind similar photos and remove them.

Easy and smart photo organizing and editing software for everyone!
For Windows 10/8.1/8/7 64-bit
Step 1. Click to enter the Cgaga official website to download and install Fotosifter to the computer. Connect your device or directly import pictures from the computer, you can directly drag the pictures to import; or click the " Import " button, select the Photo and import.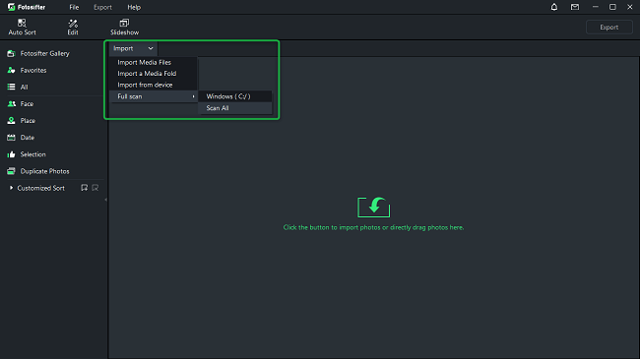 Step 2. Click the automatic " Auto Sort " in the upper left corner, and a window will pop up. You can choose to sort by Face, Location, Time, etc., or select multiple at the same time. You only need to wait a few minutes. The waiting time is related to the photo data. Then you will get the classified photos.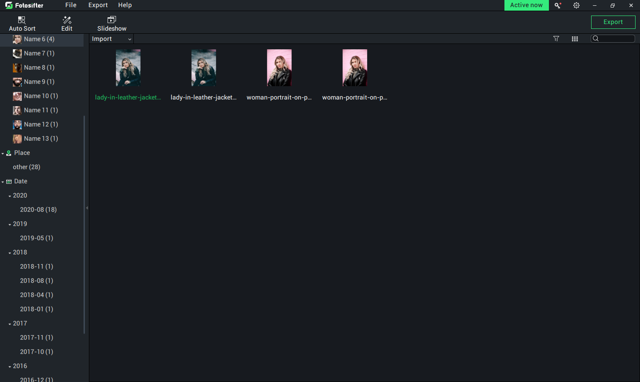 If you have too many photos, I suggest you use Fotosifter to manage them directly, which saves time and energy. Download now for a free trial. If you think it's good, you can recommend it to your friends.
Cgaga Fotosifter to manage your photos in multiple devices
Fotosifter - an easy and smart photo oragnizer and editor
PS tips—How to do animal image matting in Photoshop
You may also like to read: