Things you need to know about customized photo sorting
Speaking of sorting photos, quite many folks may associate it with arranging digital photos by time or by place in their minds. This is the very basic concept of photo sorting. Nowadays, it's no longer that easy to organize thousands and even millions of photos with that monotone sorting way. More often, many people, especially lovers of digital travel, digital devices, photography and photo slideshows, manage their photos and pictures with customized sorting methods which serve to be a huge time saver.
1. What is customized photo sorting?
The key idea of customized photo sorting is the combination of various single grouping standards. By standards, I mean the sorting dimensions such as the date (time) when the photos were taken, the place (location) where the photos were taken, the person (face) in which a photo contains, the file formats which the photos possess, and so on.
Sorting photos by a single dimension limits your photo sorting efficiency. It's like preparing dishes one by one while you have the chance to cook several dishes at the same time.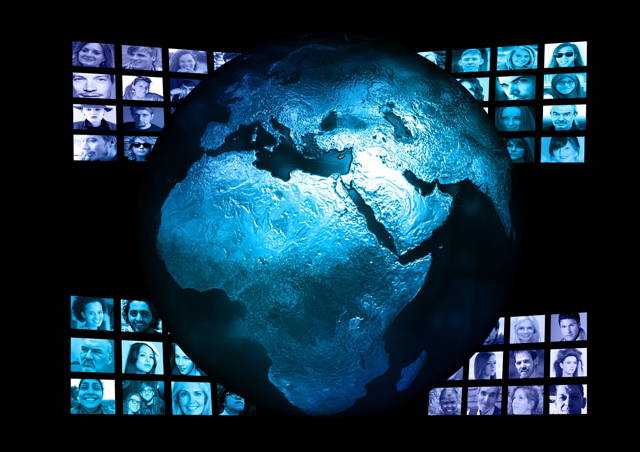 2. Pros of customized sorting and why you need it
In many cases, people sort mixed photos and albums rather than easy-to-sort picture collections. These photos and albums are a complex blend of memories. Sorting them with pure manual labor might be interesting at the very beginning, but soon you'll get bored and want to leave the willy-lilly aside. So, why don't let a smart machine do the heavy lifting for you?
I hear you thinking. Yep, the smart machine refers to smart photo sorting software. And, you might ask, my cellphone, my laptop, my computer, and even my tablet, they all already have the photo sorting functions, so what's the point of resorting to a photo organizing program?
Well, think about this: are the sorting features of those devices monotone and working individually? The answer is affirmative. You iPhone and Android phone can arrange your photos chronologically, but neither of them is able to arrange your pictures chronologically (by time) and thematically (by event tag) at the same time. Your iPad or Surface Go can recognize faces from your photos, but it cannot sort out photos with faces by events. Some applications might allow you to combine two ways of sorting together, but you cannot combine the various sorting ways freely at your will. All in all, they are just not smart and convenient enough. They have limitations. You still need to pour much time and energy doing repeated manual work.
Customized sorting gives you the bliss of smart organizing - You will be enjoying the fun of sorting photos, while not wasting much time and energy on that.
3. Examples of common combination sorting
Chronological + thematical
Sort by time (date) and theme tag (such as honeymoon travel, memorial, etc.) synchronically.
Chronological + events
Sort by time (date) and event (such as 2020 birthday, son's college commencement, etc.) synchronically.
Facial + chronological
Sort by person (face) and time (date) synchronically.
Location + chronological
Sort by location (place / geotag) and time (date) synchronically.
Favorites + Location
Sort by self collection (favorites) and location (place / geotag) synchronically.
Facial + favorite + Location

Sort by person (face), self photo-rating, and location (place / geotag) synchronically.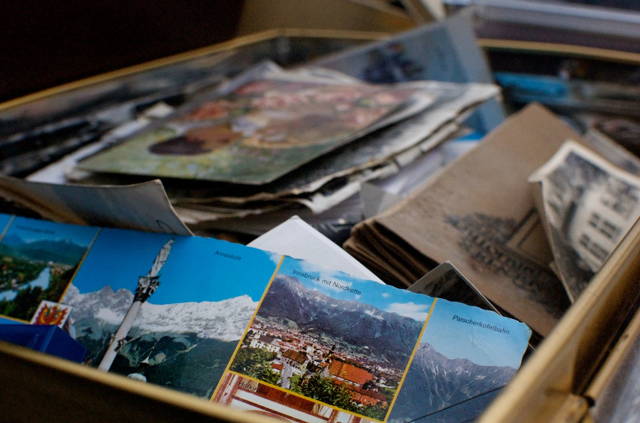 4. Professional photo manager - Fotosifter
Cgaga Fotosifter offers users with up to 6 ways of sorting as well as more than 50 photo organizing filters.

Easy and smart photo organizing and editing software for everyone!
For Windows 10/8.1/8/7 64-bit
The 6 ways of sorting are:
Chronological sorting, i.e., sort photos by time (date)
Customized tag sorting, including sorting by theme tags, event tags, name tags, note tags, etc.
Location sirting, i.e., sort photos by place (geotag)
Facial sorting, i.e., sort photos by person (face)
Selection sorting, i.e., sort photos by machine smarty picked pictures
Favorites sorting, i.e., sort photos by self collected images
Mathematically speaking, since you can combine these sorting ways at your will, there can be at most 57 possible combined ways of customized sorting!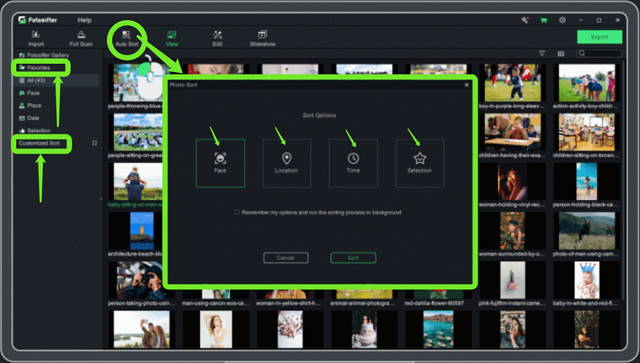 Surprising? Well, with the photo filtering feature of Fotosifter, your photos can be sorted out even more quickly. The handy photo sorting filters include photo shape filter, file format filter, camera filter, photo rating filter, and photo resolution filter.
Like the presort stage of mail delivery in postal industry, photo presort facilitates the later process of photo sorting. While the file explorer in most operating systems or software have very limited photo presort dimensions, Fotosifter helps users who have extra needs on this. Free download Fotosifter and try it now.
Cgaga Fotosifter to manage your photos in multiple devices
Fotosifter - an easy and smart photo oragnizer and editor
PS tips—How to do animal image matting in Photoshop
You may also like to read: