Utilize the Photo Selection Feature of Fotosifter
Speaking of Fotosifter, the majority of our current users know that it's a smart picture sorter, organizer, handy image enhancer as well as slideshow maker. Indeed, these are the core functions of Fotosifter.
Well, besides these major functions, Fotosifter has more to offer. One of the features is photo selection. Yep. Fotosifter also serves to be a smart image recommender or to say smart image picker. This passage will show you how to utilize the photo selection feature of Fotosifter.
1. What does photo selection mean?
Fotosifter's photo selection feature, also known as smart picture pick, is a functionality based on the advanced and ever optimizing mathematical algorithm. It empowers Fotosifter with the ability to sort out and recommend users quality photos and images. By quality, I mean the pictures who have broader exposure, higher picture definition, and whose graphical compositions are aesthetic.
Our algorithm engineers designed the advanced photo-selecting algorithm, and are constantly working on improving and optimizing it. They have trained the 'machine' for thousands of times through machine learning, and things are getting more precise. As a result, Fotosifter performs better and better.
Well, after hearing all these, you might not be convinced. Now, it's time for you to put it into practical use. Below's the steps to Fotosifter to select photos.

Easy and smart photo organizing and editing software for everyone!
For Windows 10/8.1/8/7 64-bit
2. How to use Fotosifter to smartly pick out photos?
The operation is incredibly simple. Within 4 steps, it's all nailed.
Step 1. Import your photos into Fotosifter.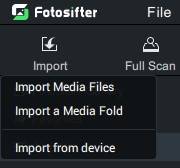 You can choose to import by media files or by media folder. You can also import photos from external storage devices like USB flash drive or HDD.
Step 2. After importing, click the virtual album named 'All' from the left-side tool bar to check the imported photos. After confirmation, click 'Auto Sort' from the top tool bar.
Then, you will see a pop-up window in which you can customize the ways you are going to sort your photos. You can select one or two or three or more as a combination at your will. But here in this scenario, you just need to click 'Selection' with a star icon to ask Fotosifter to pick out the most recommended pictures for you.
Click the 'Sort' button on the bottom to start the smart pick process.
Step 3. After that, you'll see a hint. Wait for a while.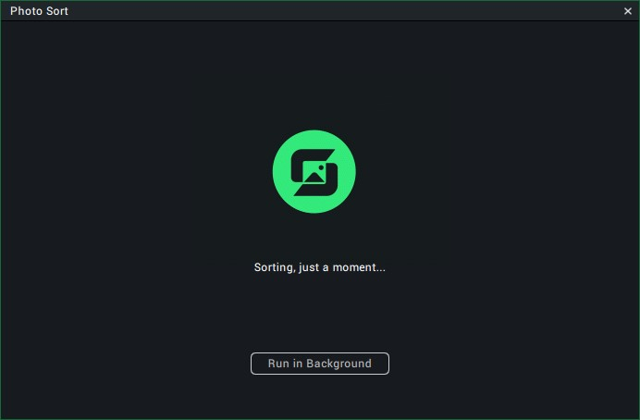 Step 4. Soon, Fotosifter will have picked the quality pictures out. In the left-side tool bar, you'll see the number of selected photos. Click the virtual album named 'Selection', and those photos will be presented in the middle viewing area of the application.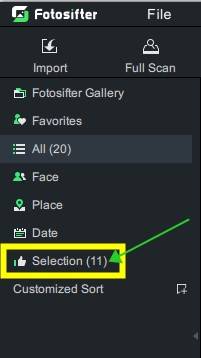 Often, when reviewing the moments in the pictures we have taken, we want to see some quality pictures as a pleasure. While there are few applications that can help you realize that, Fotosifter is a highly recommended one. It's free, smart, and simple. Within only several steps, you'll be presented with selected photos.
Cgaga Fotosifter to manage your photos in multiple devices
Fotosifter - an easy and smart photo oragnizer and editor
PS tips—How to do animal image matting in Photoshop
You may also like to read: