Beginner's Portrait Photography Tips—Headshot
What makes a good headshot photograph? We prepared this headshot photography tips serie to help you promote the skill. This article is the first part, hope you'll like it.
To take a portrait photo, there are always some small problems occur, like red eye, eyes defocus, or chromatic aberration. Then how to make a good photograph? What makes a good portrait photograph? Here we prepared you these tips, hope you can get some help from it.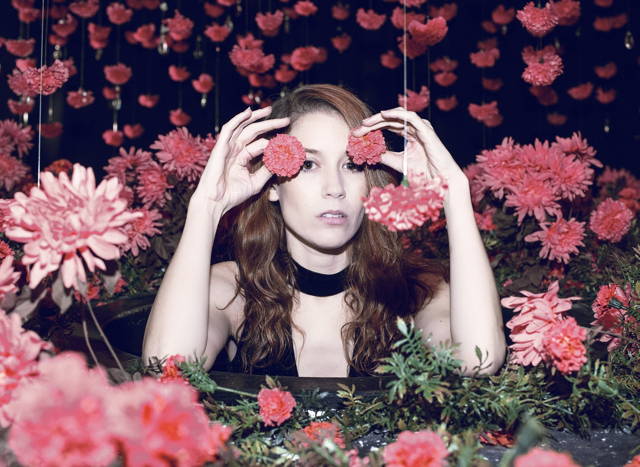 The primary condition of headshot photography is to take a clear photo of the character's face, while a saying says The eyes are the Windows of the soul. A pair of bright eyes on the photo is very charming, but when we actually shooting, there's always a problem with the details of the people's eyes. Let's take this picture as a example.
This is a street shot, there is no tripod or any other stability assistant equipment been used. After shooting, by a quick glance, you might not find anything is wrong here, but when you export it to your computer and zoom in, the blur of the eye stands out, it totally disturbed the whole impression of the photo.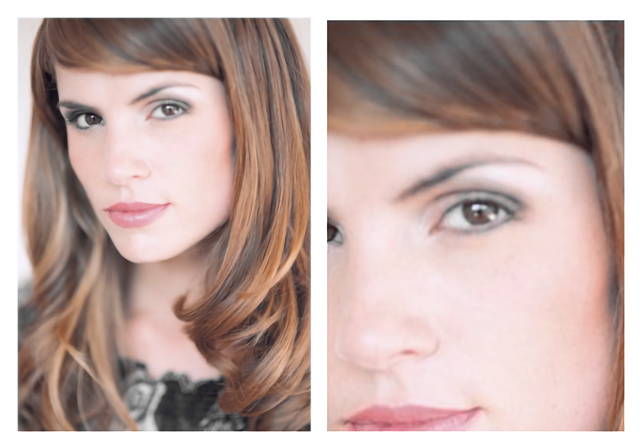 To avoid this kind of problem, capture a pair of clear eyes, one of the solutions is to turn on your camera's eye controlled focus. This technique make your camera focus character's eyes automatically, which is convenient.
Another way is to use a portable stabilizer equipment to avoid problems brought by camera shake. A stabilizer device is easy to buy on Amazon, eBay, Wish or AliExpress. But a nice portable stability device may cost you dozens dollars.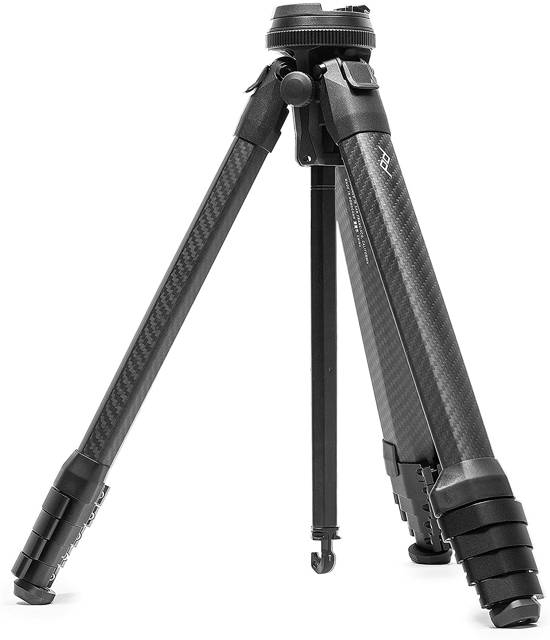 However, if you prefer light packs, or there are a red eye problem on your photo, a portable stability device is definitely not enough. Now you need a PS like software to enhance your photo.
I'd like to recommend you Fotosifter. Whatever your picture is blur or red eye, she can easily handle. What's more, after the optimize, she can help you sort photos intelligently.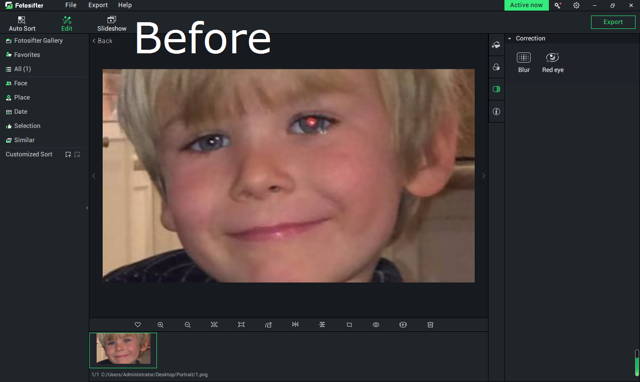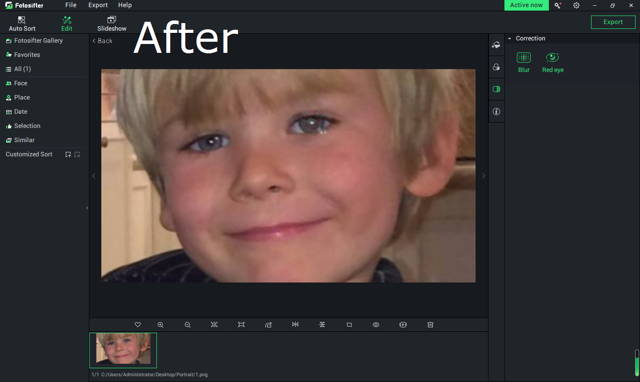 Fotosifter, Optimize your selfie easily!
For Windows 10/8.1/8/7 64-bit
Shoot a clear portrait is the first step, we still need some more methods to optimize our photos. Such as skin beautifying.
An easy way to beautify skin is turn on the skin beautifying function of your camera. But some cameras have no such function, so we need to enhance photos manually.
The fist step is to check whether your photo is too dark, a dark picture makes skin looks dark. If so, you should increase the exposure to light up your image.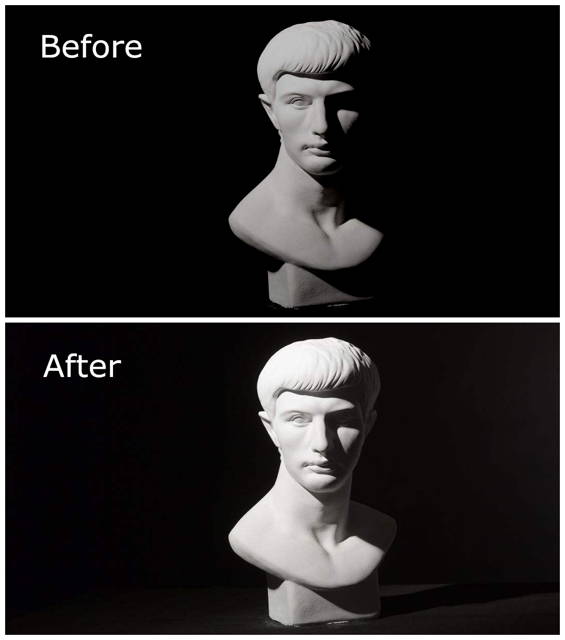 Then, check if there are any more skin problems. If you want to remove any defects like blur, scar or acne, use a software to make a correction.
High-angle shot make the model's face look exquisite, but it makes the leg of model looks short at the same time, while the low-angle shot are on the contrary.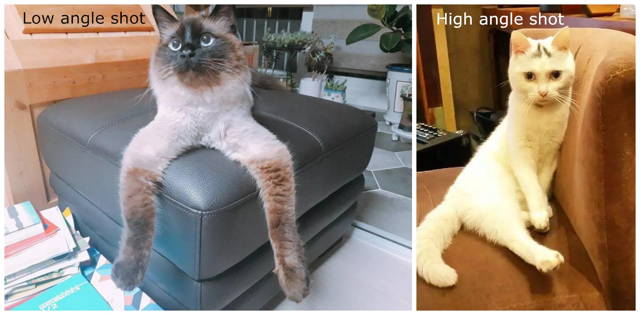 If the photo is too dark, first you need to increase some exposure to make it brighter. Another advantage to increase some exposure is you can get a fair skin. Then, lower saturation, make the picture distinctive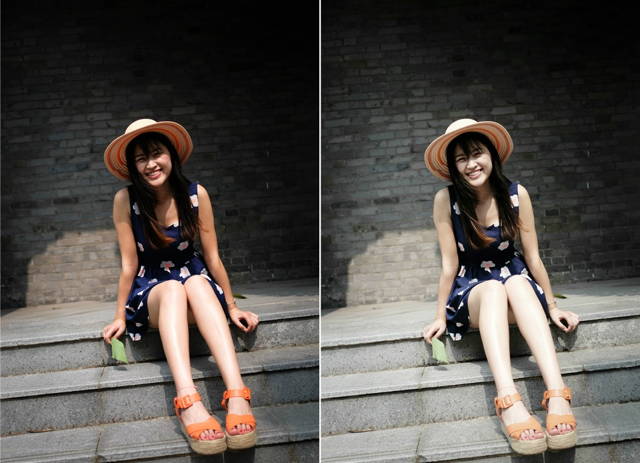 Different white balance gives people different feelings. Generally, a warm hue makes us feel happy and positive, while a cold hue feels silent and peace.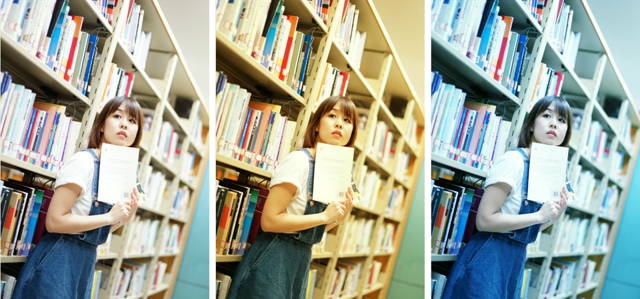 These are the first part of headshot photography tips, to shoot a nice portrait, you have to memorize the tips above. Practice makes perfect, practice more, you can take better portraits.
Cgaga Fotosifter to manage your photos in multiple devices
Fotosifter - an easy and smart photo oragnizer and editor
PS tips—How to do animal image matting in Photoshop
You may also like to read: